Blue Ridge Parkway Tour
June 14-June 22, 2024
Fall Blue Ridge Parkway Tour
Sept 20-28, 2024
Cycling the Blue Ridge Parkway
Dates of trip 1: June 14-June 22, 2024
Dates of trip 2: Sept 20-28, 2024
The Blue Ridge Parkway is a protected two lane highway and arguably America's best cycling route. It is closed to commercial traffic meaning no trucks or construction trailers. It has a speed limit of 45 miles an hour. With 90% of the traffic riding on only 10% of the road, we will have the roads to ourselves most of the time. The 469-mile scenic route takes you and your bike between Rockfish Gap, VA and Cherokee, NC over the course of six days of moving the cranks. The route is the longest planned road in the US, with construction starting in 1935 and ending in 1987. The park was built with the intent to allow visitors to be "gorged on scenery," with "one panorama following right on another." The rhythm of the road for cyclists is the ever changing landscape and variety of visual experiences.
Concurrent with these views lies a formidable perspective-this is perhaps Threshold Academy's most difficult tour. Not counting getting on and off the parkway itself, guests will vertically climb 48,722 feet as they travel north to south, riding 3 to 7 hours each day. Our detailed itinerary is thoughtfully planned with consideration for an off day in the middle and a blend of shorter and long days. Our reservations are made months in advance to accommodate everyone, and we must go everyday, regardless of the weather. That means "toughness" will play a role as the days progress and your body fatigues.
Each evening, we send out an email to you with the next day's plan, updated with the latest weather and road conditions. It contains links to downloadable GPX files for your bike computer as well as all the details of the day's expectations. We start each morning with breakfast, and people start rolling as soon as we are done. We use the parkway's mile markers for most of our wayfinding, and our SAG wagon shuttles from the front to the back of the group, making it easy to take a break and take in refreshments when you need them. We setup our logistics so everyone has lunch together, and we greet you at arrival with your room key and agenda for the end of the day activities. Before you start, we point out the day's climbs, especially the categorized ones, and we share with you our experience from our previous tours. You need not get permission to stop and take in some views, grab a picture and chat with your peers. As a cyclist, the Blue Ridge Parkway is this crown jewel of our park system and has no equal.
Minimum number of participants: 4
Maximum number of participants: 8
BRP 2023 Cost
---
All inclusive, exclusions apply.
Click below to make deposit or pay in full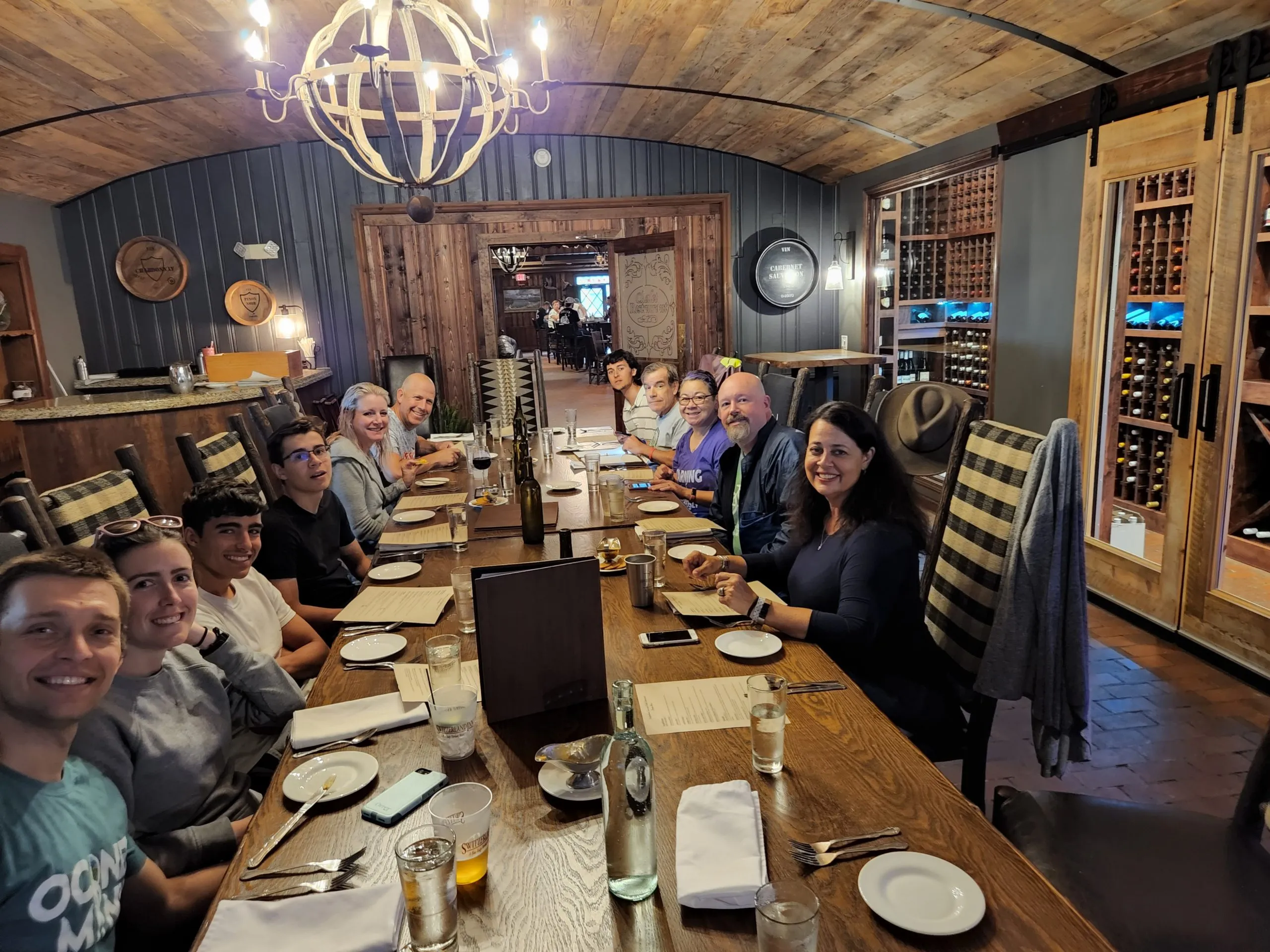 What to expect each day
Our days start early, with the first riders and bikes on the parkway at or before 7 am. Faster riders will leave later, so we all reach the lunch destination at the same time. The SAG wagon leaves with the last riders, and it shuttles up and down the group. It is always available, so you can have a rest stop anytime you need one. Each participant installs Life360 on their cell phone, that allows the SAG/van driver to see your location and speed of travel. We make sure all riders reach the final destination for the day by early afternoon, so we have time to clean up and eat a group snack and adult libations before dinner. That means that we start picking up riders and their bikes at 2:00 pm or so, depending on how far away they are. Can't go 80 miles and can only go 40? Not a problem. Our SAG wagon picks you up no matter how you got and takes you to the end.
Day 1: Travel from Charlotte to Waynesboro, VA, by 4 pm.
Our tour starts on Day 1 at a hotel in Waynesboro, VA, with a shakedown for all riders and their gear before the big day starts. Everyone meets each other as we gather for our first meal, and we set expectations and introduce you to the Threshold Team that will be supporting you. You get your "goody bag," that contains your jersey, T-Shirt, water bottle, coaster and clear box with your name on it that will always be in the SAG wagon for you to put your daily needs. We get our first group photos and start telling our stories. Life begins the act of slowing down, as the only task in front of you is to ride to the other end of the parkway.
Day 2: Rockfish Gap to Peaks of Otter. 85 ish miles. 8800 ft. of vertical.
The SAG wagon shuttles people to the start of the parkway, with the slowest riders leaving first. A Threshold guide accompanies the first group as they start their journey, and the second group of faster riders follows them half an hour later. For the first nearly 50 miles, the terrain is a back and forth of up and down experiences, with little flat ground. However, once we finish a big descend from mile 50 to mile 64, we begin the hardest climb of the trek, a 3000+ foot climb over 12 miles that takes us Apple Orchard Mountain. The UCI would categorize this as an "H/C" climb, ranking it with the most difficult climbs when compared with those found on the Tour de France. The average gradient is bit over 5%, but our lodgings and views from Peaks of Otter make it all worth it. We eat dinner with a lakeside view and will certainly see lots of wildlife. There is limited cell coverage and internet access at the end of the day, but the refreshments and exceptional lakeside quiet time make it all worth it. Triathletes can go for a lakeside run.
Day 3: Peaks of Otter to Floyd, VA. 80 ish miles. 7400 ft. of vertical.
Day 3 is more of the rich greenery from yesterday, as we spend the first part of the day undulating in "rollers" of up and down. The parkway anticipates reopening a section of the parkway that includes a category 1 climb up Roanoke Mountain by the Spring of 2022. We stop at the top of the climb for lunch, and ride a series of rollers another 30 ish miles until we reach the turn off to Floyd, VA. The SAG wagon will shuttle you and your bike to the day's lodgings in this quaint little gem of a town. Hopefully, we will get some live bluegrass music and ice cream this evening down in the center of town. Typically, legs are weak at the end of day 2, and we encourage an early-to-bed protocol. Upon arrival, you hand over your cycling kits and laundry to the Threshold staff. We all go down the street to a brewery while our clothing is washed and our body starts recovering.
Day 4: Floyd, VA, to Sparta, NC. 85 ish miles. 7500 ft. of vertical.
Day 4 is our last long day, but the volume of climbs means that pacing yourself is super important. The climb at mile marker 63 takes us up over 1500 feet in about 10 miles, making it a Cat 2 climb. We stop for photos as the state line as you cross from Virginia into North Carolina. Sparta is a quaint little town that you may never forget. At this point, you will have travelled more than half of the parkway, and your legs will be looking forward to a day off. Don't worry-it is coming!
Day 5: Sparta, NC to Blowing Rock, NC. 45 ish miles. 5000ft. of vertical.
The best part of Day 5 is that you have tomorrow off! Blowing Rock will serve as our home for the next 24 hours. We arrive before lunch and truly get to relax and unwind. We have a group dinner in a banquet area and get breakfast on one of the most beautiful properties each of the Mississippi. With 2 Cat 4 climbs and a Cat 2, the 50ish miles will not be easy, but the rest and relaxation at the end are well earned. We encourage a message or some time in the hot tub for extra recovery.
Day 6: Day off in Blowing Rock.
Appreciate what you have done, and enjoy the recovery. You have earned it. Upon arrival, we will present options for the day.
Use this day to catch up on any laundry, rest the legs and potentially go canoeing, hiking or some local shopping.
Day 7: Blowing Rock, NC to Little Switzerland. 45 miles. 4700 ft. of vertical.
Don't let the distance deceive you. We are done quickly, compared to other days, but the volume of up and down will take away another thought that this is a day off. Within the first few pedal strokes, you are on a categorized climb towards Grandfather Mountain and over the renowned Linn Cove Viaduct. We descend over the Viaduct and down to the Linville River where there is an optional hike to view Linville Falls. After remounting our bikes we climb up to Switzerland Inn, our ridge line host for the evening. This day includes a couple of tunnels. The Switzerland Inn makes the ride worth it, with fantastic views, great food and great relaxation opportunities. A firepit and adult beverages overlooking the valley below are the stuff of long term memories. For nearly everyone, this is their favorite day.
Day 8: Little Switzerland to Asheville, by way of Mount Mitchell. 60 miles. 6800 ft. of vertical.
Today we cycle into the highest mountain ranges along the Appalachian chain, the Black and Craggy Mountains. We use our aid station at the base of Mt. Mitchell to take some great photos before the optional climb to the top of Mt. Mitchell, the highest point east of the Mississippi. The ride up is only 5 miles, but the round trip travel time is an hour. The photos and views from the top make the climb worth it, as well as all the bragging rights that come with it. Once we leaving Mt. Mitchell, we have one more major obstacle, the climb to Craggy Gardens, before a mostly downhill run into Asheville. You will feel the temperatures increase as we near Asheville, and the tone of the trip changes as we get into traffic and humanity. Dinner at an eclectic fusion style restaurant will remind you that the world created by man has not gone away.
Day 9: Asheville to Cherokee by bike, then travel back to Charlotte. Arrival in Charlotte around 7 pm. 75 miles. 10,000 ft. of vertical.
We cut out a small section of this route, due to congestion on the parkway. However, this day is not easy, as there are two H/C climbs as well as a Cat 1 before the long descent into Cherokee, NC. This is a day to appreciate all that cycling the Blue Ridge Parkway entails. Remind yourself that you have overcome a physical and mental challenge unlike anything most visitors to this park ever do. Motivate yourself with the truth that you will have lifetime stories for your efforts. The tour ends with a glorious stretch that includes 13.5 miles of descending over the final 17 miles. After the completion of this unbelievable adventure we shuttle you to the airport or your car, and we celebrate our accomplishments!
-Breakfasts and Dinners; lunch on most days, with excluded meals clearly outlined upon arrival.
-All lodgings
-Laundry every other day.
-Shuttle Service to and from Charlotte to the start and end of the parkway.  Pickup early on the morning of the first day; drop off late on the end of the last day.
-Threshold Academy guides' knowledge and support. One guide rides with the first rider out each am.
-Mechanical support and basic repair parts.
-Daily routes and climbing profiles via ridewithgps.com.
-Ride support vehicle (SAG Wagon) each day we ride.
-All necessary transportation and luggage transfers during your trip
-Threshold T-Shirt
-Threshold Water Bottle
-Threshold Academy Cycling Jersey (you will need to provide your size)
-Mesh laundry bag.
What is NOT included?
-airfare to and from departure/arrival cities.
-food on our day off.
-alcohol
-specialty cycling nutrition, like gels, salts, bars and shakes.
-bike rentals
-personal items purchased during the trip
-excluded meals (typically at least a few)
-Singel Room Supplement for those who do not wish to share a room. For those moments when a roommate cannot be found for you, a partial supplement will be charged, based on seasonal price. This is an "at cost" add on.
---
Meet
Jeff and Alex Gaura
---
Jeff is a USA Triathlon certified coach and a Training Peaks Level 2 coach, with a passion to lead people on adventures that they would not otherwise undertake. Jeff loves the fitness that goes with cycling, and will share with you all that he has learned on all Threshold Tours. Jeff races as an age group athlete for TeamUSA in the sport of duathlon and runs at least 1 ultramarathon a year.
Alex is a student at Arizona State and an accomplished running and endurance athlete, taking Silver at Long Course Triathlon Nationals in November of 2019. Alex has won multiple cycling competitions and has earned many fancy titles. Alex brings the trip to life for younger generations with anecdotal stories of his life and encouragement when the day gets tough. Both Jeff and Alex are Eagle Scouts who takes the learnings of their youth and bring them to life on all of the Threshold Tours that they do together.
How does payment and tipping work?
A deposit is due upon booking. This amount is fully refundable if cancellation is made 91 or more days from the start of the trip. The final balance is due 90 days from the start of the trip. Cancellations made between 60 and 90 days from the published trip start date are eligible for a 50% refund. Any cancellations made within 60 days of the published trip start are non-refundable unless Threshold Academy cancels the trip. Tipping is not expected for any Threshold Academy employees, owners, or staff; however, wait and in-country support staff may be tipped, upon guest discretion.
I am scared of trying to travel that many miles, that many days in a row, but you say you can handle all levels of riders. How is that possible?
Our days start early, with first bikes out on the course at 7 am. Faster riders will leave at 8 am. We have rest stops for you with water and snacks every 90 minutes/20 miles. Each participant installs an app on their cell phone, that allows the SAG/van driver to see your location and speed of travel. We make it a point to make sure all riders reach the final destination for the day at 2 pm, so they have time to clean up and eat a group snack at 3 pm. That means that we start retrieving people at 1:30-2:00 pm or so, depending on how far away they are from the finish. Can't go 80 miles and can only go 40? Not a problem. We pick you and your bike up and make sure you get to the end, each day.
What training should I do for the trip?
It is somewhat difficult to give a generic answer that is true for all cyclists. All Threshold Tours have a physiological demand built into their agenda and require greater fitness and endurance than a typical week at home. For an 'average' rider signing up for a Threshold Tour, we suggest that you aim to be riding 3-4 times per week (indoor training 'counts' on this scorecard) in the 3 months leading up to the trip. The cumulative duration of those rides should build up to at least 10 hours per week in the last 4-6 weeks of preparation. You should have at least one session of no less than 80 miles, and you should be building in some intervals or 'efforts' of 15-30 minutes duration to 2-3 of your weekly rides. Give attention to your descending skills as well as to your 'base fitness' and climbing ability. It is very valuable on any of our trips to be able to descend safely and confidently. If you'd like any more personalized advice on training reach out to either Jeff or Alex, and they will be happy to discuss your own circumstances in more detail. If you need a detailed plan to get your ready, Jeff is a certified coach and available for hire, with a 3-month minimum coaching commitment required.
What gearing do you recommend I ride on the big climbs? I live in a flat place.
Inevitably, the answer to this one is going to be entirely down to your strengths as a rider. Stronger/lighter riders may well be content to ride a standard 53/39-tooth or 'semi-compact' 52/36-tooth chain set – usually couple with a rear cassette ranging from 11-25 or 11-28. Those of you who find the climbs a bit tougher or prefer to 'spin' a gear will find a compact 50/34-tooth chain set more suitable and may opt to match that with an 11-32 cassette to give yourselves a true 'bail out' option that will keep you pedaling on even the steepest sections. Nearly 100% of our climbing is at a gradient of 8% of less, so there are no real "get off and walk" sections of the road. If you're still not sure what will be most suitable for your specific trip and riding style, email us and we'll be happy to advise.
How do you manage groups to cater for a wide variation in rider experience and riding speed?
A key 'success factor' in enabling this to happen is that we need all riders in the group to take an efficient approach to all of our rest breaks, meal/café stops and col-summit regroupings. Your 'job' during a break period (as well as relaxing, eating, drinking, taking your photos & celebrating your successes) is to make sure you are properly prepared to move on when we ask you to.
On some mornings, we will give 'head starts' for the steadier riders in the group, sending them off a few minutes before the faster participants after each refreshment stop or col-summit regrouping. The composition of the 'lead group' may vary from day to day (if fatigue starts to play a part) or even on individual sections of the ride depending on terrain (some steadier climbers may be excellent descenders or very strong on flatter / rolling roads). The real key to the success of this approach is collaboration within the group – the faster riders showing some patience in allowing a head start to accumulate and the steadier folks being sufficiently well organized to get ahead when we ask them to. Regardless, we pick up riders and bikes in the early afternoon, to make sure that we all reach the final destination with time to clean up and get in some nutrition and recovery, as there is always another day in front of you.
How do you handle food/nutrition on the trip?
Every cyclist has their own beliefs, education, and perspectives on nutrition while riding. Regardless of which type of diet you adhere to, you will have a need for a lot of calories on our rides, and we do our best to make sure you get enough to be successful. We often rely on our hotel partners to provide either breakfast or dinner for our riders, and lunch is often addressed by our support team, as we eat from coolers and grocery store purchases at lunch time. If you have special food requirements that can't be addressed at either grocery stores or hotels, please bring with you what you need (special energy bars or energy drink powders, for example). In general, there will not be stores on our tours that are stocked with cycling specific nutrition. We do spend efforts to keep everyone hydrated, reminding everyone to drink, often.
Jeff is an omnivore and Alex is a vegetarian, so you can ask either of us for additional perspectives.
What is included in all the Threshold Tour?
-Breakfast and Dinners on all days; lunches on most days, with excluded meals clearly outlined upon arrival.
-All lodgings
-Threshold Academy guides' knowledge and support
-Mechanical support
-Daily route support plus detailed route maps w/ profile data
-Ride support vehicle accompanies Tour
-All necessary transportation and luggage transfers during your trip
-Threshold Water Bottle
-Threshold Academy Cycling Jersey (you will need to provide your size)
What is NOT included?
-airfare to and from departure/arrival cities.
-alcohol
-food during the day off
-specialty cycling nutrition, like gels, salts, bars and shakes.
-bike rentals
-personal items purchased during the trip
-excluded meals (typically at least a few)
I have some fear of all this climbing and all the distances. Can I really do this?
You are going to have a "peak week" in terms of training levels, both on duration and intensity. You need not have "done" a week like the one you are about to do in order to be ready. You need only have done a few equivalent sessions in the weeks and months leading up to a Threshold Tour to be ready. Pacing yourself, especially on the climbs, has no substitute. Although some in the group will attempt to race up the hills and compete for KOM and QOM titles, most people won't.
How is it possible to recover and go hard day after day?
Jeff has studied this topic and attended seminars. Without question, the most important factors that you can control to make sure you recover are getting adequate nutrition and hydration and good sleep. We get up early every day, so we encourage and strongly suggest that you are in bed with the lights out early enough to get all the sleep you need. Since you will be training hard, we encourage adding no less than 1 additional hour of sleep at night.
I don't want to ship my bike. Are rental bikes available and what is the quality?
We cannot control what the airline does with its handling of your bike, so it is commonplace for rental requests. We partner with local vendors to provide you a carbon framed bike with climbing, non-aero wheels. You should provide your own pedals, helmet, and riding clothing/accessories. We will provide assembly and basic bike fitting for you. If you do rent a bike, we will ask you to provide three measurements from your current bike to get your seat and handlebars in a near equivalent position before you arrive.
How many guides are on a tour, and what kind of support is there on the road?
Depending on size, all rides have at least one guide and one support vehicle on the road with you. For rides with at least 5 riders, there will be a pair of guides and a support vehicle. The support vehicle will contain packages snacks, water, basic repair tools and parts to assist you with minor bike repairs on the road.
If I am travelling alone but am not paying the single supplement, will you assign me a roommate?
Our tour pricing is based on double occupancy. We will assign you a roommate of like gender, but we can't guarantee that we will be able to do so. If we are not able to assign you a roommate, then a tour specific single occupancy supplement will be assessed.
How do I get to the start of each trip?
Detailed information about starting and ending times and locations, airport and hotel van transfer locations and transportation options will be included in tour information emailed to you. If you wish to make airline reservations before receiving this information, please contact us for times and locations of your trip start and end.
Each trip begins and ends in or near a town accessible by mass transit as noted in individual trip descriptions. If you wish to drive to the trip start, please review the trip information emailed to you or give us a call for departure times and parking options.
How do refunds work, and do I need travel insurance?
Once you place your deposit, you are agreeing to pay for the cost of the trip, in full, no less than 90 days before departure. Based on when you cancel, you may forfeit your payments.
In the event you must cancel either before or during the trip and are not able to receive a refund from Threshold Academy, travel insurance represents your next fall back. We encourage and recommend the purchase of travel insurance for all Threshold Tours.
Is the trip guaranteed to run?
Threshold Tours have a minimum number of participants required for the trip to run and the published price. For 2021, we need at least 6 to run the Spain trip, 4 for the Blue Ridge Parkway trip, and 6 for the Pyrenees trip. We cannot currently handle more than 14 riders on any trip.
In the event that we do not have enough participants, we will offer you the ability to pay additional amounts to keep the trip. If a trip is cancelled due to a lack of participants, you are eligible for 100% refund or move your money to a different trip.
In the event we have too many people sign up, we will split the trip into two different weeks, allowing the first who sign up to pick which time frame is best for them. We will always keep the original published week as one of the options. For those who are unable to make either week or who sign up late, there will be a full refund of 100% of the amount you paid.
Can my school aged children come on this tour?
There will be other high school aged children riding their bikes on our routes. However, children less than high school aged (less than 13 years) are not allowed on our trips.
What documents should I expect to receive?
You will receive a guest confirmation the same day that you make your deposit. An itinerary and info sheet will quickly follow which gives the route and lodging information for yourselves and those at home. A week prior to your trip start you will receive an email about our start meeting location, time and any last-minute information that you will need to know before your first day. Daily briefings while on guided tours are given as well as info guides and daily maps or cue sheets, allowing you to ride with complete confidence that day.
I have never ridden a bike in a tunnel that has no lights. What should I expect?
There are 26 tunnels, and none of them have any lights-this part is true. The parkway authorities require that all bikes have lights on them for this section of the ride, so bring a red light for the rear and a white light for the front. The biggest item to remember is to take off your sunglasses as we traverse through them and to put them back on when you are done.